News
Miners seek federal support
Thursday, 22nd November 2012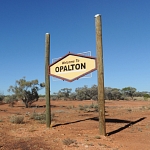 The 39th LRMA Annual General Meeting will be held this Saturday at the Bowling Club starting at 11am.
All financial members should come along, get an update on where we are at and raise any issues that are of concern to them.
The LRMA Christmas party will be held from 1pm at the RSL Club.
All financial members and their families are very welcome. Barbecue lunch and drinks provided. Please bring your own chair and a Santa gift for each child.
NOMA OFF TO CANBERRA
Representatives from the National Opal Miners Association (NOMA) are off to Canberra next week.
Our federal member Mark Coulton has arranged meetings with the Minister for Resources, Energy and Tourism, Martin Ferguson and opposition spokesman, Ian Macfarlane.
We will also meet with the federal representatives for all the opal producing regions of Australia; Mark Coulton (Member for Parkes NSW), Rowan Ramsay (Member for Grey, South Australia) and Bruce Scott (Member for Maranoa, Queensland).
NOMA President Peter Christianos will lead the delegation along with LRMA President Sebastian Deisenberger, Queensland Boulder Opal Association President James Hind, Coober Pedy Miners Association President Paul Reynolds and NOMA Secretary Maxine O'Brien.
We shall be asking for the federal government to include our national gemstone as an integral part of all government funded tourism and advertising campaigns; to negotiate a reduction in Chinese import tariffs for opal; to assist with a state of the industry report; to keep the diesel rebate scheme in place; and to appoint a departmental officer with whom the opal industry can liaise and consult.
We probably will not have time to discuss much else and many of our issues such as access to land and compensation are under the jurisdiction of state governments.
The issues we are raising are mainly those that can be addressed on a national level.
We will let you know how we go.